Setup S3 Mountpoint with AWS ParallelCluster 🗂
tl;dr: Mount an S3 Bucket like a shared filesystem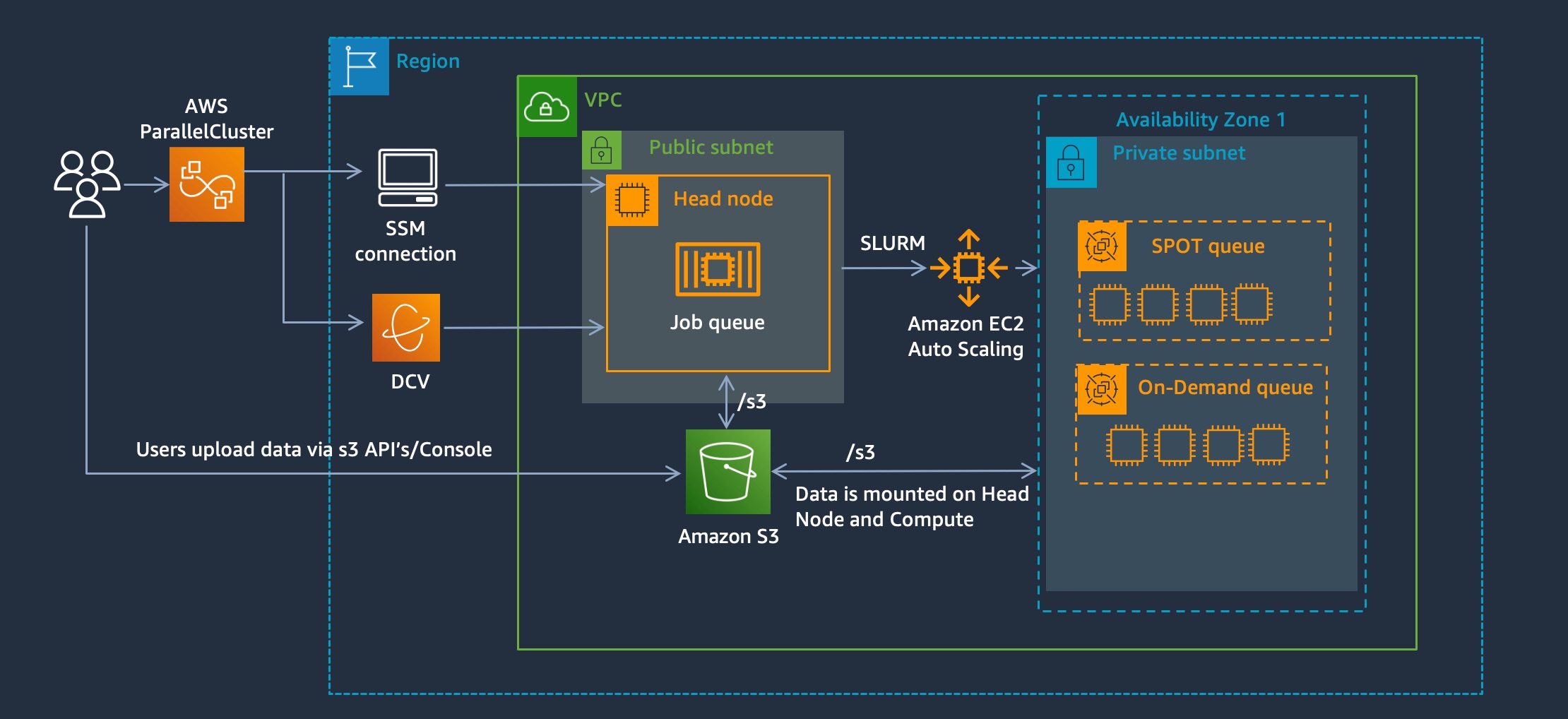 S3 Mountpoint is a new solution that provides a way to mount an S3 bucket as if it's a shared filesystem. This gives several advantages:
Allows using applications that don't support S3 API's
Easy interface for users to browse files in S3
So what are the downsides?
Read-only in alpha
Non-POSIX compliant. This means operations such as metadata changes, file-locking ect. are not supported.
Setup
In this guide, I'll assume you already have AWS ParallelCluster UI setup, if you don't follow the instructions on pcluster.cloud to get started.

I've created a post-install script called s3-mountpoint.sh that installs S3 mountpoint and mounts an S3 bucket. You call it like so:

#!/bin/bash





# Usage:




# ./s3-mountpoint.sh /shared mybucket



source /etc/parallelcluster/cfnconfig



# Install S3 Mountpoint if it's not installed




if

 

[

 ! -x 

"

$(

which mount-s3

)

"

 

]

; 

then


    sudo yum install -y fuse fuse-devel cmake3 clang-devel
    curl --proto 

'=https'

 --tlsv1.2 -sSf https://sh.rustup.rs | sh -s -- -y 

&&

 source 

"

$HOME

/.cargo/env"


    git clone --recurse-submodules https://github.com/awslabs/mountpoint-s3.git
    cd mountpoint-s3/
    cargo build --release
    mv target/release/mount-s3 /usr/bin/


fi





# get network throughput from ec2 instance


token

=

$(

curl -sX PUT 

"http://169.254.169.254/latest/api/token"

 -H 

"X-aws-ec2-metadata-token-ttl-seconds: 21600"

)


instance_type

=

$(

curl -sH 

"X-aws-ec2-metadata-token: 

$token

"

 http://169.254.169.254/latest/meta-data/instance-type

)


region

=

$(

curl -sH 

"X-aws-ec2-metadata-token: 

$token

"

 http://169.254.169.254/latest/dynamic/instance-identity/document | grep region|awk -F

\"

 

'{print $4}'

)


network

=

$(

aws ec2 --region 

${

region

}

 describe-instance-types --instance-types 

${

instance_type

}

 --query 

"InstanceTypes[].[NetworkInfo.NetworkPerformance]"

 --output text | grep -o 

'[0-9]\+'

 | head -n 1

)





# Mount S3 Bucket


mkdir -p 

${

1

}


echo 

"Network Performance: [

${

network

}

]"


chown $cfn_cluster_user:$cfn_cluster_user 

${

1

}


mount-s3 --maximum-throughput-gbps 

${

network

}

 

${

2

}

 

${

1

}




Setup a cluster with the following s3-mountpoint.yaml config file:

HeadNode

:
  

InstanceType

: 

c5.xlarge


  

Networking

:
    

SubnetId

: 

subnet-12345


  

Ssh

:
    

KeyName

: 

keypair


  

LocalStorage

:
    

RootVolume

:
      

VolumeType

: 

gp3


  

Iam

:
    

AdditionalIamPolicies

:
      - 

Policy

: 

arn:aws:iam::aws:policy/AmazonSSMManagedInstanceCore


      - 

Policy

: 

arn:aws:iam::aws:policy/AmazonEC2ReadOnlyAccess


    

S3Access

:
      - 

BucketName

: 

mybucket


  

CustomActions

:
    

OnNodeConfigured

:
      

Script

: 

https://swsmith.cc/scripts/s3-mountpoint.sh


      

Args

:
        - 

/shared


        - 

mybucket




Scheduling

:
  

Scheduler

: 

slurm


  

SlurmQueues

:
    - 

Name

: 

queue0


      

AllocationStrategy

: 

lowest-price


      

ComputeResources

:
        - 

Name

: 

queue0-compute-resource-0


          

Instances

:
            - 

InstanceType

: 

c5n.large


          

MinCount

: 

0


          

MaxCount

: 

4


      

Networking

:
        

SubnetIds

:
          - 

subnet-8b15a7c6


      

ComputeSettings

:
        

LocalStorage

:
          

RootVolume

:
            

VolumeType

: 

gp3


      

Iam

:
        

S3Access

:
            - 

BucketName

: 

mybucket


        

AdditionalIamPolicies

:
            - 

Policy

: 

arn:aws:iam::aws:policy/AmazonEC2ReadOnlyAccess


      

CustomActions

:
        

OnNodeConfigured

:
          

Script

: 

https://swsmith.cc/scripts/s3-mountpoint.sh


          

Args

:
            - 

/shared


            - 

mybucket


  

SlurmSettings

: {}


Region

: 

us-east-2




Image

:
  

Os

: 

alinux2



Test
Once the cluster goes into CREATE_COMPLETE, connect to the Head Node and list out the files:

$ sudo ls -la /mybucket
total 

120056511


drwxr-xr-x  

2

 root root           

0

 Mar 

24

 13:15 .
dr-xr-xr-x 

24

 root root        

4096

 Mar 

24

 13:05 ..
-rw-r--r--  

1

 root root  

6596329472

 Oct 

29

  

2020

 ANSYS2019R3_LINX64_Disk2.iso
drwxr-xr-x  

2

 root root           

0

 Mar 

24

 13:15 ansys-installer
drwxr-xr-x  

2

 root root           

0

 Mar 

24

 13:15 api
-rw-r--r--  

1

 root root         

651

 Apr 

22

  

2022

 budget.json
-rw-r--r--  

1

 root root        

4515

 Jul 

16

  

2021

 c2c.inp
-rw-r--r--  

1

 root root        

2132

 Dec  

9

  

2020

 calculate_nodes.py
drwxr-xr-x  

2

 root root           

0

 Mar 

24

 13:15 car2car


You'll notice the files are owned by root, this is because the post-install script is run as root
Debug
If the cluster goes into CREATE_FAILED fear not - the logs are all preserved and you can easily debug the source of the failure by looking at the cfn-init logfile:

comments powered by

Disqus