Mount Home Directory in AWS ParallelCluster 🗂
tl;dr: Setup a persistent home directory with AWS ParallelCluster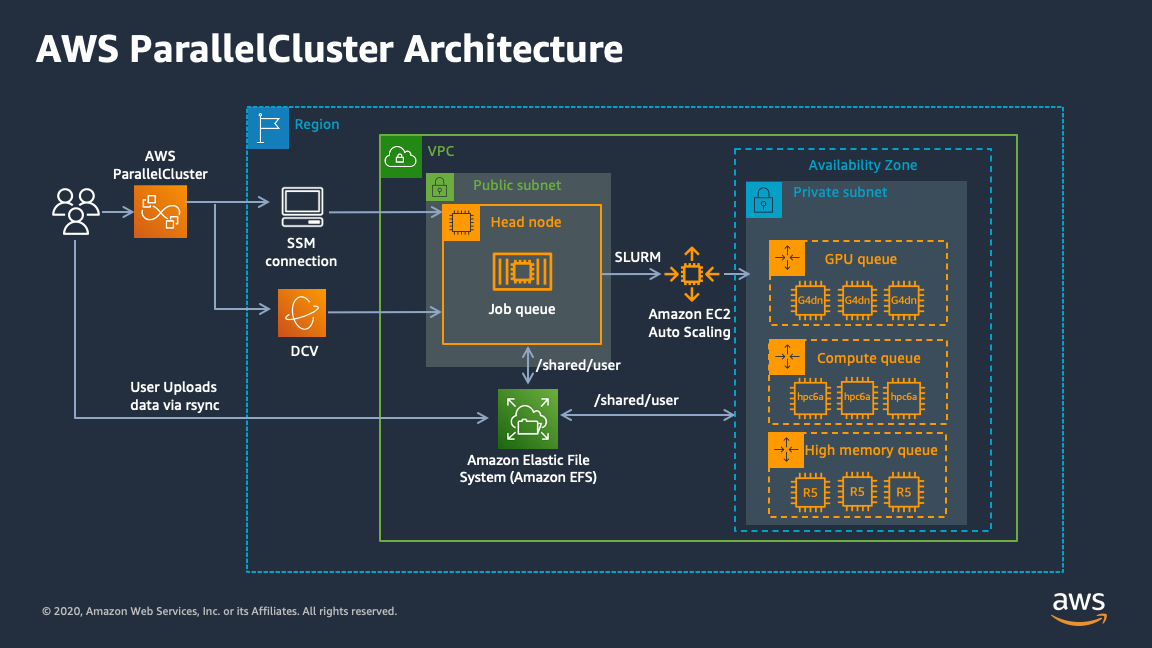 External filesystems can be mounted and used as home directories in AWS ParallelCluster. This has several advantages over the default, which is an EBS volume on the head node /home shared via NFSv4 to the compute nodes.
Home directories can be persisted after cluster deletion, saving data and allowing users to reproduce the same environment
Home directories can be mounted on multiple clusters, allowing users to have the same filesystem between different clusters
Reduce dependency on HeadNode, this allows you to size down the HeadNode since it's no longer serving critical traffic i.e. ~/.ssh/ directory
Use a filesystem such as EFS that can dynamically expand
See #2441.
Setup
In this guide, I'll assume you already have AWS ParallelCluster Manager setup, if you don't follow the instructions on hpcworkshops.com to get started.

Setup a cluster with an external filesystem mount /shared, Note this can't interfere with the default home directory, /home, which is required for parallelcluster.

HeadNode

:


InstanceType

: 

t2.micro




Ssh

:
    

KeyName

: 

keypair




Networking

:
    

SubnetId

: 

subnet-123456789




LocalStorage

:
    

RootVolume

:
    

VolumeType

: 

gp3




Iam

:
    

AdditionalIamPolicies

:
    - 

Policy

: 

arn:aws:iam::aws:policy/AmazonSSMManagedInstanceCore




Scheduling

:


Scheduler

: 

slurm




SlurmQueues

:
    - 

Name

: 

queue0


    

ComputeResources

:
        - 

Name

: 

queue0-t2-micro


        

MinCount

: 

0


        

MaxCount

: 

4


        

InstanceType

: 

t2.micro


    

Networking

:
        

SubnetIds

:
        - 

subnet-123456789


    

ComputeSettings

:
        

LocalStorage

:
        

RootVolume

:
            

VolumeType

: 

gp3




Region

: 

us-east-2




Image

:


Os

: 

alinux2




SharedStorage

:
- 

Name

: 

Efs0


    

StorageType

: 

Efs


    

MountDir

: 

/shared


    

EfsSettings

:
    

ThroughputMode

: 

bursting




After the cluster is created, connect to the cluster with SSM:

Then run the following commands to switch ec2-user to /shared/ec2-user:

exit 

# go back to ssm-user


sudo su 

# switch to root


usermod -d /shared/ec2-user -m ec2-user

Test
Now that we've switched the home directory, we can log out and connect again via SSM and test that it worked:

You'll see the new home directory is /shared/ec2-user, which contains the contents of /home/ec2-user.
Multi-User (Posix)
If you're using a multi-user environment, make sure to specify the home directory upon user creation:
useradd -m -d /shared/$USER $USER

Since /shared/ec2-user is already mounted to all the compute nodes, you simply need to create the user on the compute node and point it at the right home directory:
useradd -d /shared/$USERNAME -u $USERID $USERNAME

See Multi-User Setup for more details.
Multi-User (Active Directory)
If you've setup your cluster with active directory, it's even easier. You can provide a flag in the DirectoryServices/AdditionalSssdConfigs section of your config to specify the default home directory, for example:
AdditionalSssdConfigs

:
  

override_homedir = /shared/%u



In ParallelCluster Manager:

This sets the user's home directory to /shared/<username>. Read more about it here.
comments powered by

Disqus